THE FLASH #10
Writer: Joshua Williamson
Artists: Felipe Watanabe
Inker: Oclair Albert
Colorist: Chris Sotomayor
Letterer: Steve Wands
Release Date: 11/9/16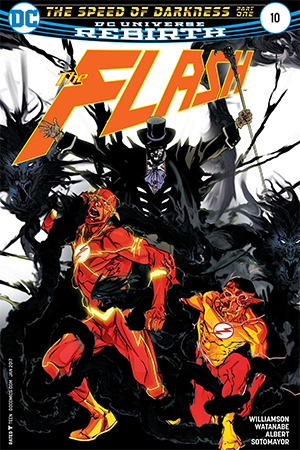 The Flash started a new arc, "The Speed of Darkness," this week with a sweet and fun issue. The story mostly belongs to Wally West, but Barry and Iris also get opportunities to shine. Not only that, but readers catch a glimpse of a new rogue named Papercut – a villain who seems harmless enough at first before revealing a power much more difficult to defeat. The theme this week seems to be that appearances can be deceiving, which probably remains true when it comes to The Shade and whatever reason he has for coming back to town.
Back to Wally: his enthusiasm for heroism coupled with his lack of restraint may be frustrating to some, but it speaks to how realistically Joshua Williamson has crafted his arc. It's natural for a young boy imbued with such a gift – and born with a big heart as well – to be anxious to prove himself in his quest to do good. Furthermore, Iris knowing who he is under the mask simultaneously adds levity and layers to their scenes. Secrets don't have to be the only way to move a plot forward or explore character development, and the differences in Wally's dynamic with Iris and The Flash reflect that this week. Wally reveres the Flash but cannot fully trust him until he learns his true identity, and the tension of that dichotomy is sure to fuel the current arc.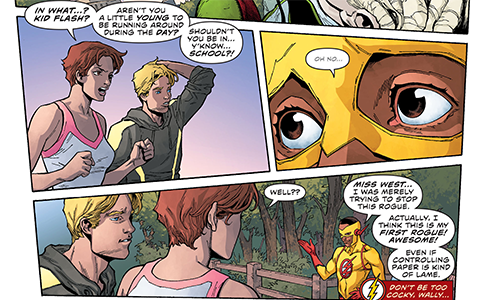 The Shade returned to The Flash this week, as well, with an reintroduction as ambiguous as he himself is. He has been both an enemy of the Golden Age Flash and a mentor to Starman, but the only thing we can be sure of at the moment is that he is experiencing deep despair. The clash between his perspective and Wally's is already on full display by the end of the issue, and that's before even bringing Barry into the fold.
Speaking of Barry, he gets a few moments of introspection despite the major focus being on Wally. Some threads from the the Godspeed arc, such as what happened to Meena, have yet to be resolved but are clearly not going to be dropped. But what's most interesting is the way he thinks about protection vs. truth. When Iris tries to protect him, he thinks about how he can't get away to become the Flash without risking her finding out his identity. This begs the question of why he wouldn't tell her his identity in order to prevent situations like this in the future, thus ensuring her protection and his own. Similarly, when Wally rebels against the Flash, Barry thinks about how he can't tell Wally his identity for his own good. While it seems like a major character flaw right now, I trust that Williamson has given Barry reasons for it that will be revealed – and corrected – soon enough.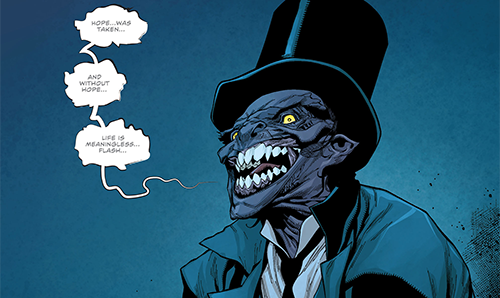 Felipe Watanabe's art is a breath of fresh air, and really plays to the lighter feel of this issue. Barry and Iris both look younger and less harried, which makes sense given that a huge weight has recently been lifted off their shoulders with the arrest of Godspeed. It also reminds the audience that this is meant to be a rebirth, and one that promises more than darkness. It's also one of the first times this run that Wally looks as young as he acts, which is not meant to be a disparaging remark. He's Kid Flash for a reason, and the youthful energy imbued in him by both Watanabe and Oclair Albert fits the learning curve he's on perfectly.
The lettering in this week's The Flash also set a new tone, introducing readers to The Shade's hopeless outlook with deep purple text boxes to offset the optimism and hope inherent in Barry and Wally's narratives. The paneling this issue is dynamic and interesting, drawing the eye to important moments without ever becoming either overwhelming or repetitive. Finally, Chris Sotomayor's colors added to the lighthearted atmosphere, creating a dreamlike issue that really felt like the calm before the next storm.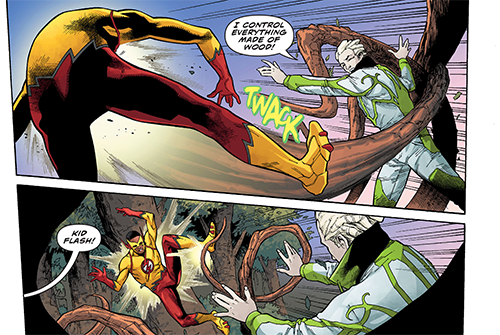 Verdict: 4 out 5 stars. A wonderful issue of The Flash from a characterization standpoint, and one that makes great use of guest artists. While not a lot of deeper mysteries are answered, they are still presented in a tantalizing fashion that suggests the new arc will be quite the thrill. Perhaps the reappearance of a forgotten foe will come with more answers to the origin of DC's Rebirth?
About the author