The Flash has a new speedster in town as last week's episode saw the Arrowverse arrival of Dr. Meena Dhawan, better known to comic book fans as Fast Track! Played by Kausar Mohammed, Meena was the mystery speedster that was running around in Central City until Barry Allen tracked her down. After discovering what she hopes to accomplish, Barry offers to mentor Meena and become part of the next generation of speedsters.
Tonight's episode, "The Man in the Yellow Tie," focuses a lot more on Meena as the season 8 episode fleshes out her mythology. A huge part of that is the return of Matt Letscher as Eobard Thawne, as the trailer for "The Man in the Yellow Tie" reveals that he has been working with Meena. Ahead of tonight's episode, The Flash Podcast had the honor of chatting with Mohammed recently about joining the Arrowverse as the DC heroine. 
DISCLAIMER: Please do NOT reproduce the interview or break up pieces through screenshots. We request that you link to our original article when using it on other platforms.
The Flash Podcast: Let's start from the beginning, can you talk a little about your audition? Did you know you were going from Meena or was it kind of a classic secretive casting with code names and things being redacted?
Kausar Mohammed: Definitely the latter 100%. But in retrospect, it was totally codenames. What I saw in the script was just scenes about her being a scientist and needing help from Barry. But in retrospect, I think about how I'm kind of grateful that I hadn't put the pieces together at that point, because there was something so nice about just being able to approach it as 'Oh, this is a human, what do I connect to her as another human,' versus letting the superhero stuff cloud maybe how I wanted to play it. So in that way, it was the good ol' audition process, and then when I found that I booked it, found out that it was Dr. Meena Dhawan and then when that happened, I did my research, and I freaked out. I was already excited. But I was even more. so [after learning about Meena.]
The Flash Podcast: Were you familiar with The Flash and the Arrowverse in general before you booked the gig or was this kind of your entry to all of this?
Kausar Mohammed: Yes. So I was generally knowledgeable about The Flash here and there. I'd never read any of the comic books. But of course, after I found out about Dr. Meena Dhawan, my partner got all the comic books for me. Then I went through and read all them, was like 'This is awesome!'
The Flash Podcast: When you booked this and had to do all the VFX stuff on set, did Grant Gustin give you any tips for like how to do all the speedster stuff since he's done this for so long? Or did you learn from seeing his performance as Barry Allen?
Kausar Mohammed: Oh, no, he definitely helped me! He helped me a lot! [laughs] I don't know what I would have done had he not been so patient. It's the simple thing of landing in a running pose. That was the hardest thing for me, I'd always, instead of putting alternating hand and leg out, it'd be like the same side. You just end up looking like a stick at that point! I'd always be like, 'Oh, how do I zoom?' So definitely, he was so supportive and patient. Also, The Flash stunt team, I was continuously practicing and practicing with them in the downtime. I'd be like, 'Okay, am I zooming right? Am I landing right?' [laughs] I got to do some sprint training too, which was all new to me and I just wanted to make sure I was doing the the superpower justice. I was also the first time working on green screen for me and it was all just so much fun and I hope I get to do it again.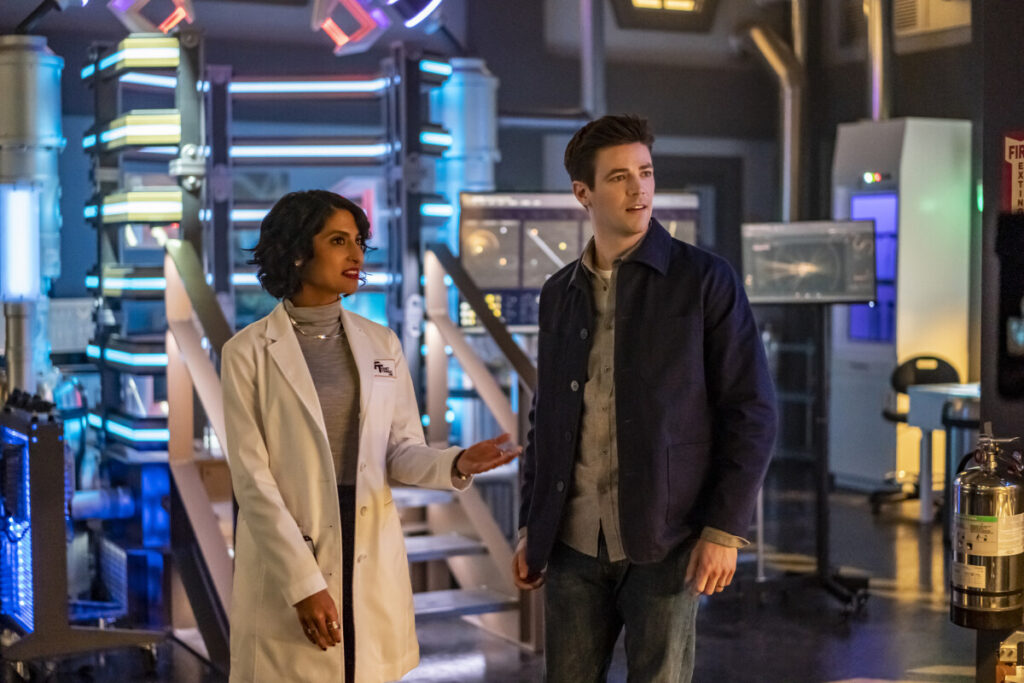 The Flash Podcast: Well, that was gonna be one of my questions; if you were to return next season – I'm assuming Meena is alive and well by the end of ths season, we don't need any more deaths this year! But assuming that she is still good and well, might we see you next season and what are things you would love to explore with Meena?
Kausar Mohammed: Yeah, we'll certainly have to see what happens next season but I will say that Meena is 100% in my heart, she still lives there! [laughs] Her superpowers still live there so yeah, we'll have to see but the character's super close to my heart.
We will have PART 2 of our interview with Kausar Mohammed tonight after 9 PM ET where she goes into more of the spoiler territory of "The Man In The Yellow Tie," and Meena's arc for the rest of The Flash season 8!
WHEN NOTHING IS WHAT IT SEEMS – With a new speedster in town, The Flash (Grant Gustin) gets much more than he bargained for, meanwhile Cecile's (Danielle Nicolet) powers experience a growth spurt allowing her to aid Team Flash on an entirely different level. The series also stars Jesse L. Martin, Candice Patton, Danielle Panabaker, Kayla Compton and Brandon McKnight. Marcus Stokes directed the episode written by Sam Chalsen (#818).
Find The Flash Podcast on:
Social Media: Facebook – @TheFlashPodcast – Instagram
Subscribe: Apple Podcasts – Stitcher Radio – YouTube – DC TV Podcasts – Google Podcasts – iHeartRadio – Spotify – Amazon Music – Podchaser – TuneIn – Podcast Index
Contact: [email protected]
Support: TeePublic Store