The Arrowverse got itself a new hero last season as Ryan Wilder, played by Javicia Leslie, stepped into the Bat cowl and cape and became Gotham City's new Batwoman. The show, which is currently in its third season, has gone even deeper into DC lore as Ryan and her team have been busy collecting the many lost Bat-trophies that spread into the city. But Batwoman season 3 is also exploring Ryan's family life, with the DC drama introducing her mother Jada and brother Marquis Jet, who have both come to play surprising roles in the first half of the season.
While Ryan's legacy is evolving within the world of Batwoman, fans have finally gotten to see Leslie come over to the other shows, specifically as a guest in The Flash's 5-part Armageddon event. In the fourth installment, viewers finally got to see Ryan meet the other characters, although it came with a twist. Instead of being in the present, Ryan was part of Eobard Thawne's Reverse-Flashpoint reality. In this timeline, Eobard was The Flash and about to marry Iris West while Barry Allen was the Reverse-Flash. That means Batwoman's first time meeting the Fastest Man Alive onscreen was while throwing punches at him!
Recently, The Flash Podcast had the honor of sitting down with Leslie following her big Armageddon appearance and the mind-blowing mid-season finale of Batwoman season 3. Throughout our exclusive interview, Leslie talks about the many twist and turns of the third season, how she finally got to appear on The Flash after having watched it for years, and more.
DISCLAIMER: Please do NOT reproduce the interview or break up pieces through screenshots. We request that you link to our original article when using it on other platforms.
The Flash Podcast: It's been more than a year since you joined the Arrowverse as Ryan Wilder. After having explored this character for over a season, what have been some of your biggest takeaways of getting to play a role like Batwoman, who so many look up to?
Javicia Leslie: I think one of the biggest takeaways is that it takes a team to make this happen. Our writers' room is just so amazing, and they're telling these beautiful stories. And the fun part of the season is we get to take these characters that I literally read in Batman history and bring them to life on television through the show, because of our writers and because of our show creators.
And then our entire team, our set, our hair and makeup, wardrobe, costumes – all of that comes together to be able to create these characters. And then more, than anything, our Vancouver crew creates these epic sets and situations to make all this feel like it's really Gotham City. My biggest takeaway is just how much of a team collaboration this entire project can be. I do carry that with me when I go into scenes and make sure I'm gonna give my 100%, because I do know that everyone is there to give their 100%, and my job is to also do the same. Everyone's there and sacrificing time with their family to be there to make this the best show they can make, and they're doing an amazing job. It's so good to be able to contribute to that.
The Flash Podcast: I can definitely tell, especially this season that has been so insane in all the best ways possible! Especially what's been going on with Mary [Hamilton, played by Nicole Kang], like that gut-wrenching scene in the final episode between her and Ryan. When we return next year, what's Ryan's emotional state following that major turn?
Javicia Leslie: Yeah, she's gutted! I think that she genuinely is just hurt. I think Mary is such the heartbeat of the show, and the moral compasses of the show. And to see the moral habits start to shift in a way – she's shifting into darkness, really. I think Ryan and the whole Bat Team just feel defeated. And what's happening is this moment of defeat.
We never thought we would lose Mary to Poison Ivy, to Alice. It's really going to be a huge part of the second half of the season, from really just finding Mary to saving Mary, and also the fact that Ryan's still battling her brother and trying to save Gotham from him while saving him from himself. Ryan's tired! [laughs]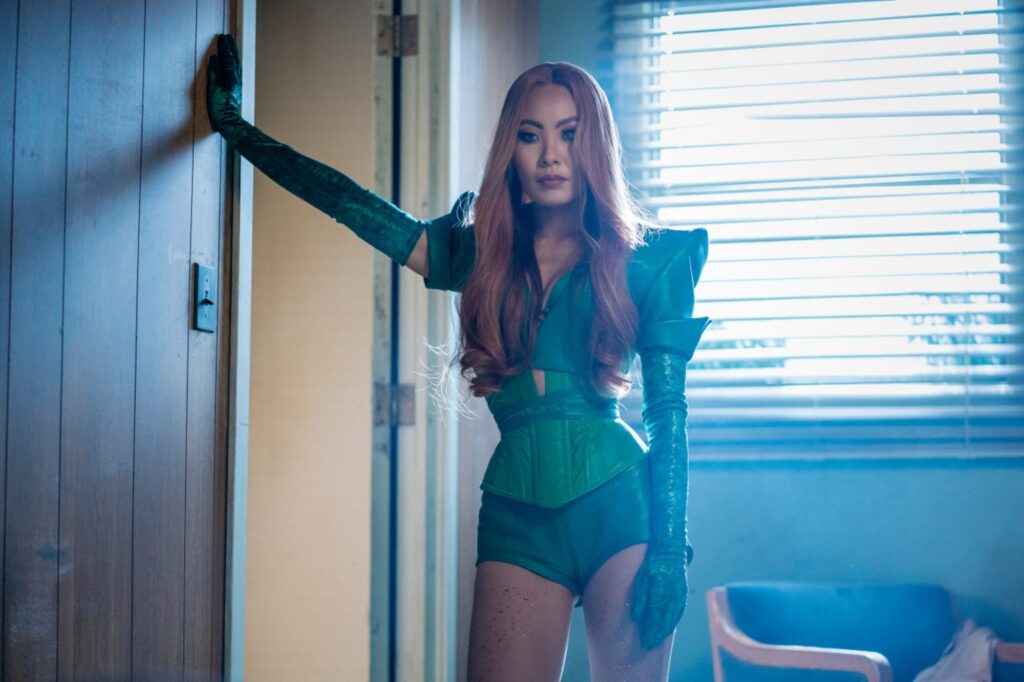 The Flash Podcast: Speaking about her family, Ryan's brother being the new Joker still blows my mind! Can you talk about that twist, like when you found out from Caroline Dries [showrunner and executive producer] that not only is your family being introduced, but your brother is also the new Joker?
Javicia Leslie: I found out last season. I had a conversation with Caroline, asking her about what she wanted to do for the season. She pitched that story, and it was just so much fun. I was really excited to go into the season with that. And with the character of Marquis, Nick [Creegan] is just doing an amazing job bringing it to life. He's had so much fun, and he's putting everything out there. He's been bold. He's making bold decisions, and it's so much fun to watch.
The Flash Podcast: As Ryan and Marquis are on these opposite sides, will it perhaps bring Jada [Robin Givens] and her closer in the second half of the season?
Javicia Leslie: I think we go back and forth, honestly. I think that there still needs to be some kind of understanding of why decisions were made the way they were made. Because even though he's sick, why does she keep him and not Ryan? I look forward to the second half of the season, because you really get to kind of dive more into their relationship.
And we still don't know if Jada is good or not. Can we trust her? And so I think a lot of those answers will get answered in the next half.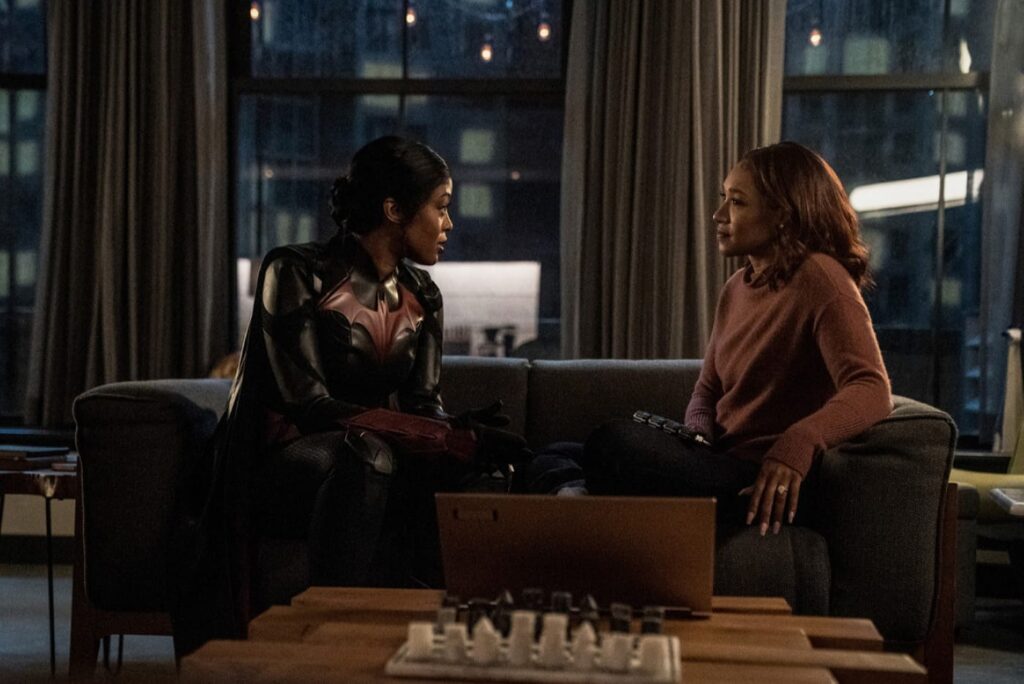 The Flash Podcast: You finally got to hang out with the rest of the Arrowverse on The Flash in "Armageddon," which I never imagined would be the first time Ryan and Barry Allen got to meet each other. Can you talk about getting that call from Eric Wallace [showrunner and EP of The Flash] to come to hang out in Central City?
Javicia Leslie: There are so many layers to that phone call. There is the layer of 1) this is the future of an alternative universe where Barry's the Reverse-Flash. Before I even joined the Arrowverse, I was a The Flash fan. I had so many friends that appeared on the show. My best friend Allison Paige played Trajectory – and I think she's the first female speedster villain for my other best friend, Violett [Beane], who played Jesse Quick.
I have friends on the show, and it was the first Arrowverse show that I started watching. I was so into the show, so to know that I was going to do the show and fight The Flash? At first, I was really conflicted because I thought 'The fans are gonna hate Batwoman now!' But then it made so much sense as I really sat there and thought about it.
One thing about Team Flash is that all the amazing characters in the show are always are fighting for what's good. Sometimes their characters, just like Frost – their good guys become bad guys, and you've got to fight them. It doesn't mean that you're now bad because you're fighting your good guy that has actually become the bad guy. It just makes so much sense. Of course, in this new reality, he is bad! He kills Joe and probably did a bunch of other horrible things.
Yes, we are fighting. And then when I was told I get to fight alongside some kick-ass women like Chyler [Leigh, who plays Alex Danvers] and Kayla [Compton, who plays Allegra Garcia], I was just like 'Heck yeah!'
Then the other layer to it was Ryan's storyline in the show, and to be able to kind of co-create that with Eric, because he was asking me 'So what's going on in your show? I heard that there might be a love connection between you and Sophie.' Eric was connected to Meagan [Tandy, who plays Sophie Moore] through Teen Wolf and asked if I wanted to kind of dive into that. I said 'You know what? We probably should, because I don't know if it will ever exist on Batwoman. I don't know if Ryan and Sophie will ever actually be a thing on Batwoman, but why not play into it on The Flash and give the fans something that they really really want?' And he said 'Yeah, I completely agree!'
And that's why we created this beautiful story of Ryan and Sophie being married and working on trying to have a child.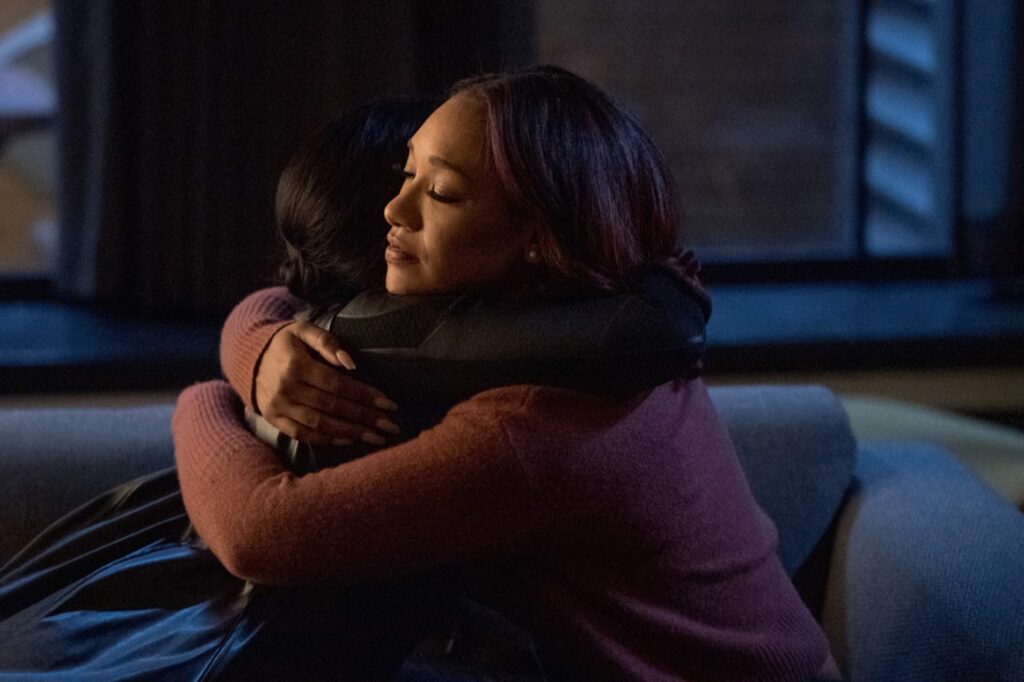 The Flash Podcast: Another beautiful thing was seeing you finally getting to share the screen with Candice Patton [who plays Iris West-Allen], something so many viewers (including myself) have wanted to see. So even though we were dealing with time travel in this case, what are the chances of seeing that friendship coming to life in the present later this season on The Flash?
Javicia Leslie: I would always be down. Yeah, they know that. I think that one of the hardest things is trying to do that while I was filming. Now that I finished early, maybe we can get me up there for an episode or two, but I know I need a little break. [laughs] I need some time at home to rest for a second.
But, honestly, Candice? That's my girl, and to be able to do any project with her and create something like what we created with that episode would be amazing. And I didn't know that her character had never really had a sista, a Black BFF! To be able to bring that to light and to show these two Black women have this beautiful healthy relationship as best friends – I thought that was really, really important. And I love that the fans were able to get that. It's been years.
The Flash Podcast: I want to go back a bit to the Sophie and Ryan of it all. Where do we find them next year? I know things have been rocky between them as of late, but could you see their romance going down the same path as "Armageddon" over the course of the next few seasons?
Javicia Leslie: Oh, well, I don't see that happening this season – them getting married or anything like that. They wouldn't have earned that; I wouldn't even want that! As far as them being together. I don't know. I've been told I'm a spoiler queen. I can't tell you if they do, or if they don't. All I can tell you is to tune in to find out! [laughs]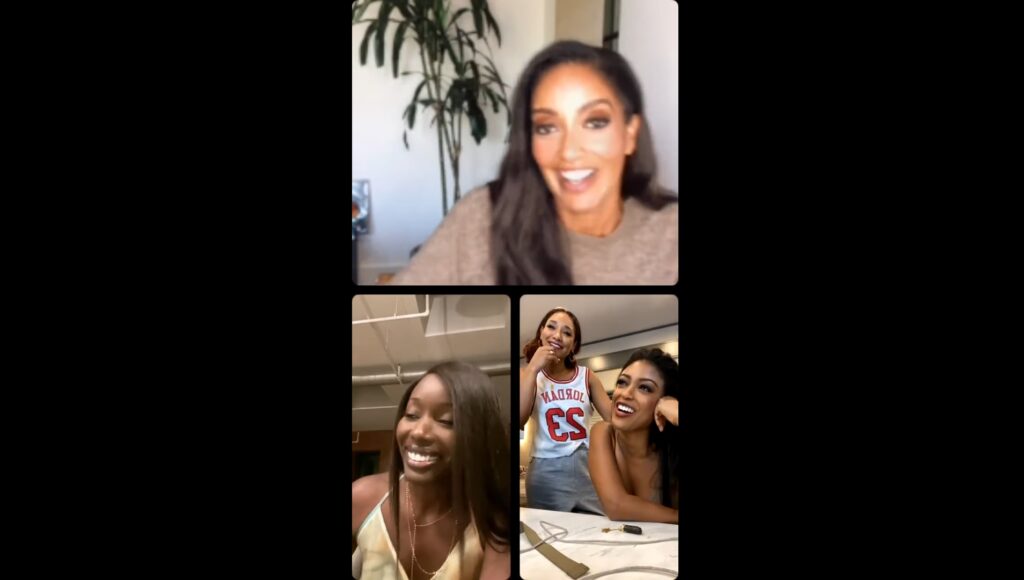 The Flash Podcast: Something I have wanted to talk to you about was the Instagram panel that you, Candice, and your fellow DC TV stars Anna Diop [who plays Starfire on HBO Max's Titans] and Azie Tesfai [who plays Kelly Olsen on Supergirl] did, where you talked about the experiences you all have gone through as Black women in this franchise. I wanted to ask you more about having that unity and platform where you can spread these messages.
Javicia Leslie: I think that it was necessary for us to come together and talk about our experience. Not just our experiences in a negative way, but in a beautiful way. The negative stuff is stuff that I think as a people we are going through – it's not just the Arrowverse; it's not just a superhero thing or television thing. As Black women, this is something that we're going through, and we are just small little representations of the trauma that is existing against Black women. It just so happens that we are actors on superhero shows, so we have a platform to talk about it.
Yeah, it's necessary. I think it's beautiful, and I hope that it's healing for people. I'd love to do things like that more often, where we can use that to feel safe about telling our stories or [act out] the story that inspire others. It's great to be able to tell a story in a healthy space. But also it's a way where we can actually reach healing. That's the biggest thing. It's not just about expressing the trauma; it's about healing the trauma.
The Flash Podcast: I really appreciate it, and I know your fans appreciate and love seeing that as well. Hopefully, that's something you guys can do more often, especially during the down seasons.
Javicia Leslie: [And to add to that] I don't think it's just a Black woman thing. I think that we are a representation of a specific group, but I think that the bigger thing is we've gone years and years with people as superheroes looking a certain way. And what that means is that, yes, beautiful, young white children can grow up seeing themselves as Superwoman and Supergirl. And I love that, I don't think it's just about race.
I think it's amazing that, no matter what your race is, as a girl, you can see these women be badass superheroes. Getting a chance to see yourself when you don't normally get [that] chance? That's the part I'm referring to too. That's a part of the healing, as well. I don't think that we even realize that representation is healing.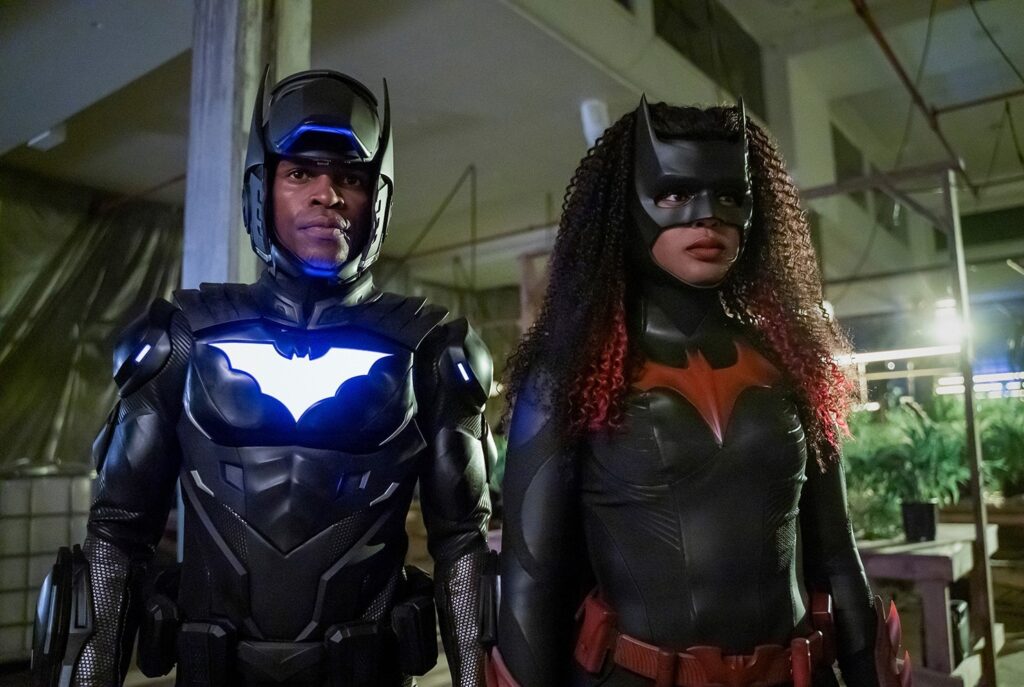 The Flash Podcast: As I was prepping for this interview, I read that you've also explored the world of directing, as other actors in the Arrowverse have done. Is that something you have talked to Caroline about doing in Batwoman season 4?
Javicia Leslie: Yeah. Cam [Johnson, who plays Luke Fox] is directing his first episode already, and I will be directing mine next season*.
[EDITOR'S NOTE: This is not in any way an official announcement that The CW and Warner Bros. Television has renewed Batwoman for Season 4. At the time of this article's publication, Batwoman, The Flash, Legends of Tomorrow, Superman & Lois have NOT been renewed.]
The Flash Podcast: Before I let you go, as you are wrapping up Batwoman season 3, what is next for you? Do you have any projects coming up that you can talk about?
Javicia Leslie: Right now, I have been working on Batwoman for a year and a half. I haven't even seen other projects. [laughs] This has been my focus completely. We've been nonstop, and we've got a very short break in between seasons. I have gotten an even shorter break, so my biggest thing that I want to do is get some rest!
The Flash Podcast: Yes, definitely rest up, especially after having worked under such trying circumstances that come with this pandemic! Huge kudos to you and everyone who has busted their butts! Javicia, thank you so much for your time, it was such a pleasure to talk to you. Thank you for everything you do with Ryan Wilder and Batwoman for so many people around the world, including myself. I hope to speak to you in the near future!
Javicia Leslie: Andy, it was such a pleasure, thank you! We finally made it happen!
[This interview has been edited for length and clarity.]
The Flash: Armageddon wraps up TONIGHT at 8/7c on The CW while Batwoman season 3 will resume on Wednesday, January 12 at 9/8c – stream the latest episodes the following day only on The CW and The CW app! The Flash Podcast will be live covering the Armageddon event this Wednesday (December 15) at 6 PM ET on DC TV Podcasts' YouTube channel, so be sure to tune in on the following link:
The Flash Podcast Armageddon Live Show – Part 5: https://youtu.be/nVubgMhuUEc
Find The Flash Podcast on:
Social Media: Facebook – @TheFlashPodcast – Instagram
Subscribe: Apple Podcasts – Stitcher Radio – YouTube – DC TV Podcasts – Google Podcasts – iHeartRadio – Spotify – Amazon Music – Podchaser – TuneIn – Podcast Index
Contact: [email protected]
Support: TeePublic Store