The battle to clear their names continues as Gotham Knights season 1 follows Turner Hayes and his new band of allies. After being framed for Batman's murder, the kids are now forced to hide in the shadows while trying to figure out who made them a target.
The Flash Podcast and Multiverse of Color's Andy Behbakht recently had the honor of chatting with one of the stars from Gotham Knights: Olivia Rose Keegan, who plays Duela, a.k.a. Joker's Daughter! Throughout the interview, Keegan talks about the audition process, her previous DC history, and how Duela fits into the group dynamic. Keegan also teases what is coming up in season 1, including the appearance of her mother, Jane Doe.
TFP/MoC: I am really enjoying Gotham Knights and Duela, with all of the chaos that she brings in the best way possible. Let's start from the beginning; how was it auditioning for this role? Was this one of that secretive superhero gigs, like using a cover name, and then you find out it was Duela?
Olivia Rose Keegan: So it was interesting, they weren't as secretive as some of those really annoyingly secretive projects, which I'm happy about. Because you get some auditions and only one device can download the sides that you use for auditions. It was like 'How do you expect them to have someone to read with you?'
TFP/MoC: Wow, I didn't know it was like that!
Olivia Rose Keegan: Some things are really quite peculiar situations, but I knew it was called Gotham Knights. It's funny because the codename for my character was Olivia. And my name is Olivia, so that was that. We all have these interesting superstitious things that happened. The audition itself, I taped it with my boyfriend and thought it was one of the worst auditions I had ever done. I remember being really frustrated and having a sort of small mental breakdown about it. I just had no clue if it was really weird, or good or what to make of it. But I guess they liked it. Overall, the process was really peaceful and painless. With most things especially when you end up booking the project it's this long, drawn out, uncomfortable high-stakes situation. I was definitely still sweating my ass off before the chemistry read and everything, But the producers and everyone involved just made it such a pleasant, wonderful experience and overall pretty painless, which is rare for the audition process [laugh]
TFP/MoC: Were you already a big DC fan before you joined Gotham Knights?
Olivia Rose Keegan: I was definitely a big fan of the Batman legacy. But my comic knowledge didn't run that deep so I've had a lot of fun like diving into that whole world through this project. Everyone involved like our showrunners and producers just a plethora of DC knowledge. So I've had a lot of fun picking their brains.
TFP/MoC: From what you've seen of Duela in the comics, what fascinates you the most about her?
Olivia Rose Keegan: That's a great question. There are many different versions of Duela in the comics, some that are very, very dark and intense, which is really awesome to pull from and also add weird elements of that to my version of her. But the most interesting/my favorite thing would be her impulsiveness. Because, selfish me, it is very fun to play with. It's very freeing. She's sort of this pot of emotional intensity that's bubbling over at all times in these really weird, cathartic, messy, unpredictable ways. To allow myself to follow every single, weird and wild instinct I have on set has been very freeing. And I've definitely surprised myself in some moments on set, which has been wonderful.
TFP/MoC: One thing that I've been very curious about is if Joker really is her father or not. I know you probably can't give a definitive yes or no, but do we get to the bottom of that towards the end of the season if she is definitively Joker's daughter or not? Because Duela strikes me sometimes as a narrator who may or may not always be unreliable, so I'm just curious about what the situation is like.
Olivia Rose Keegan: She is the Joker's Daughter, absolutely. You've seen 1-6, so I can't give away the whole entire pot at the end of the season, but she is absolutely the Joker's Daughter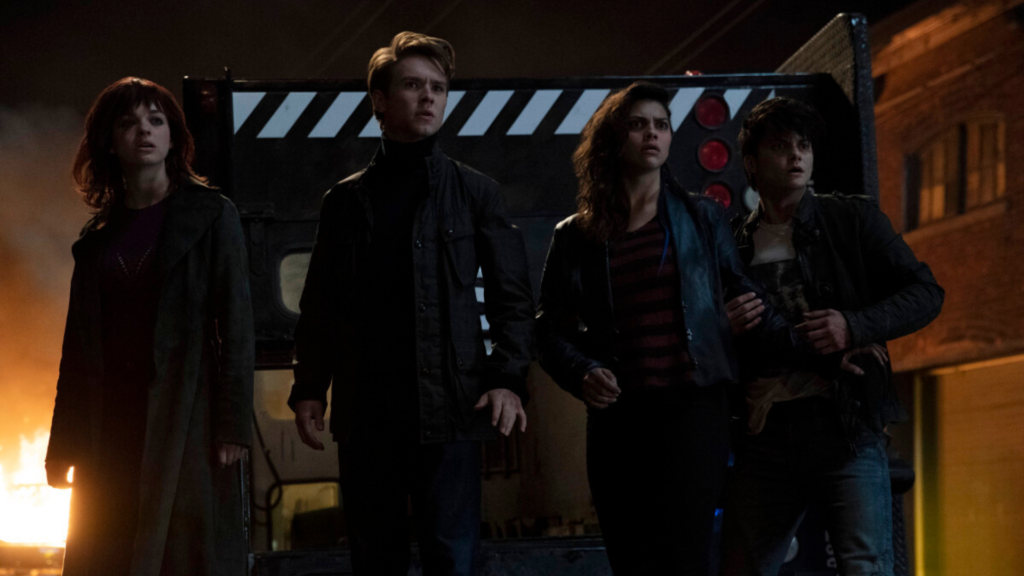 TFP/MoC: It sounds like Joker on this show is dead, but if you could have him appear in flashbacks, to see what that life was like for Duela, who would your dream casting of Joker be? Because that's not an easy role to cast.
Olivia Rose Keegan: No, and a really insanely hard role to play, I can imagine. I wish [I could work with] Heath Ledger; that would have been amazing. I also love Joaquin Phoenix's version; both are magnificent in their own ways. It's been really fun incorporating that into finding the throughline at their performances in Duela's personality. In the prep, there was definitely a lot of me playing compilations of Heath Ledger in The Dark Knight and just locking myself in a pitch-black tiny closet [laughs], getting really weird, kooky, and dark with myself. So it's been wonderful source material to pull from while also having Duela be her own original character. So you get to have the best of both worlds with that.
TFP/MoC: Now I have to ask because I remember now in the pilot, there's a point when you guys get into the cop car, and she's sticking out of her head and just goofing around. Was that meant to be a nod to Joker in The Dark Knight when he was sticking out his head during the police car sequence?
Olivia Rose Keegan: Yes, that was intentional. Yeah, it was a surprise. It was kind of a decision on that day made by the director and the creative team of the pilot. I was definitely a little bit nervous when they said that because it's such a big, beautiful footprint to live up to, and to give an ode to that. I just wanted to make sure it was done right. I think it turned out well [and it was] very fun.
TFP/MoC: I spoke with Chad and James a while ago, and they were talking about how we will actually be seeing Duela's mother later in the season. What can you say about her appearance, and what is the impact of Jane Doe at this point in Duela's life?
Olivia Rose Keegan: That's such an exciting part of the season to me. As far as what impact Jane Doe has had on Duela so far; of course, it wasn't this picture of a perfect maternal situation. But her mother is the one person in the world with Duela has had a long-standing relationship and has a love for. It's definitely the most important relationship in her life. I'm really excited about the way that she's going to be introduced and how it all ends up. I just can't express enough how exciting that's going to be. I know you've seen 1-6, but I wish they had given you more!
TFP/MoC: I agree! [laughs]
Olivia Rose Keegan: It gets so good and juicy after that. I wish I could say more but yeah, I'm just really excited about it.
TFP/MoC: Throughout these episodes that I have seen, she is being reluctant but still kind of slowly starting to accept this team dynamic. But with her being a wildcard, can you tease if we still have to see her struggle with accepting it fully, and if so, does that mean that she might turn on team before she finally accepts that this is her new family?
Olivia Rose Keegan: 100% Yeah, it's not going to be an easy process. She's a survivalist who grew up in the streets of Gotham, learned how to run for herself at a very young age, and learned how to survive and take care of herself. She learned from a very young age that it hurts too much to keep all these soft mechanisms that we have on ourselves on. So she turns them off, learns how to survive, and hasn't really had a long-standing friendship as far as the back story that I've created, and I think the writers too. Besides her mother, there are definitely going to be some glitches in her system when these people prove her wrong and start showing up for her time and time again. She's definitely going to glitch out/sabotage these relationships. Her system isn't designed to accept it. She doesn't think deserves it. So there's a lot of really interesting stuff that you're going to see within these dynamics through the season.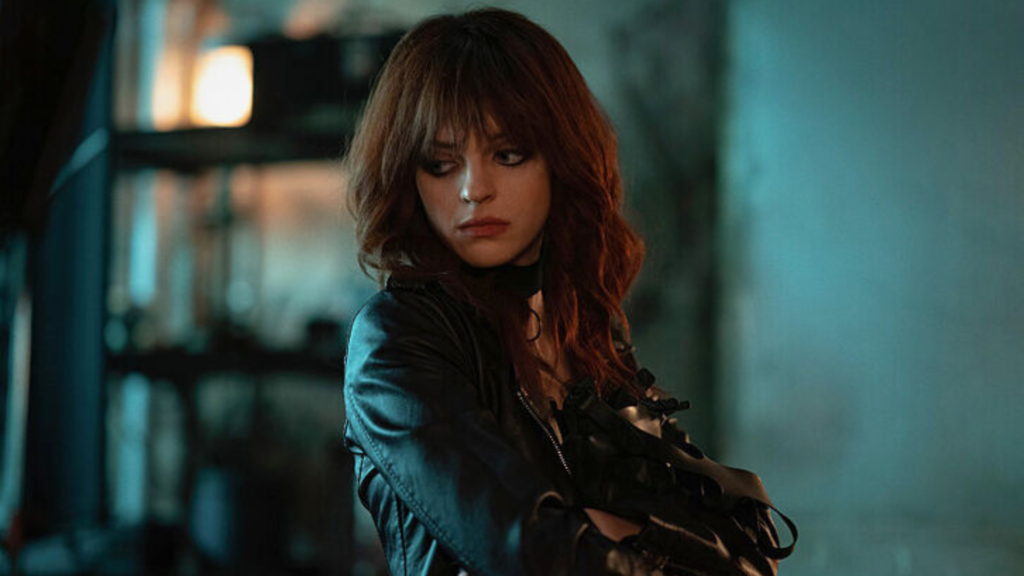 TFP/MoC: In terms of relationships, because there's a point this season where I started wondering, 'Turner and Duela, maybe?' So what can you speak about that, or am I just grasping at straws?
Olivia Rose Keegan: Well, if you see something, then I won't gaslight you out of it and tell you that you're grasping at straws. I think that's really exciting. You have seen that, and I can't wait for you to see the whole season. As far as their dynamic at the beginning of the season, Turner represents everything wrong about the system to Duela. She looks at Turner and sees a spoiled, rich kid, Bat-Rat, who is undeserving of all the privileges he's received his entire life. There's a lot of breaking down walls, a lot of trauma, bonding, a lot of proving oneself to each other that will have to be done if that's going to be a possibility.
TFP/MoC: One of my final questions for you – I'm a huge comic book fan, and of course, as I was studying Duela in the comics a bit, there's no way I could miss the Dent part of Duela Dent. Harvey Dent is on the show, so does the Dent part come into play at some point, or is it something you can't talk about?
Olivia Rose Keegan: Well, she's not Duela Dent, she's Duela Doe, and she's the Joker's daughter. However, Harvey is a really interesting character. Misha [Collins] is amazing; I can't wait to see for everyone to see his performance towards the end of the season; he gets to do some real work through the season. I think you've seen that, but we do get to interact and then have moments, and it's always a great time. I can't really give away what those moments will be, obviously! [laughs]
TFP/MoC: Before I let you go, what are you working on right now besides promoting Gotham Knights?
Olivia Rose Keegan: Good question! [laughs] I'm just auditioning again. That's the life of an actor, at least for me and for most employees. I'm very lucky to have this, but now I'm just auditioning for projects but it's been great. But I'm not working on anything huge at the current moment.
TFP/MoC: Well, hopefully season 2; we are crossing our fingers. Congratulations on what has been an amazing first batch of episodes, and I can't wait to see what's next!
Olivia Rose Keegan: Thank you. Thank you so much, Andy. It's been great talking to you!
TFP/MoC: Likewise. Have a good one!
ICYMI:
EXCLUSIVE INTERVIEW: Showrunners Chad Fiveash & James Stoteraux Previews Gotham Knights Season 1
EXCLUSIVE INTERVIEW: EP Natalie Abrams On Bringing The CW's Gotham Knights To Life
EXCLUSIVE INTERVIEW: Misha Collins Previews Gotham Knights' Harvey Dent
EXCLUSIVE: Misha Collins On How Jensen Ackles Was Almost Gotham Knights' Batman
"Scene of the Crime" — (9:00-10:00 p.m. ET) (TV-14) (HDTV)

THE SEARCH FOR ANSWERS – In an attempt to clear their names, Turner (Oscar Morgan), Duela (Olivia Rose Keegan), Cullen (Tyler DiChiara), Harper (Fallon Smythe) and Carrie (Navia Robinson) head back to the scene of the crime in search of Bruce Wayne's journals. Meanwhile, as Harvey (Misha Collins) digs into the investigation, he begins to wonder if Turner is innocent after all. Lastly, Stephanie (Anna Lore) is brought in for questioning after the GCPD suspect she may be helping Turner. Rahart Adams also stars. Jeff Hunt directed the episode written by James Stoteraux & Chad Fiveash (#102). Original airdate 3/21/2023. Every episode of GOTHAM KNIGHTS will be available to stream on The CW App and CWTV.com the day after broadcast for free and without a subscription, log-in or authentication required.
Gotham Knights air Tuesdays at 9/8c on The CW!
Find The Flash Podcast on:
Social Media: Facebook – @TheFlashPodcast – Instagram
Subscribe: Apple Podcasts – Stitcher Radio – YouTube – DC TV Podcasts – Multiverse of Color – Google Podcasts – iHeartRadio – Spotify – Amazon Music – Podchaser – TuneIn – Podcast Index
Contact: [email protected]