WARNING: This article includes spoilers from The Flash season 8's midseason premiere, "Impulsive Excessive Disorder."
The Flash Season 8 is finally back, now on a new night on Wednesdays, as Barry Allen's story continues following the events of "Armageddon." While more graphic novels are on their way, the midseason premiere served as an interlude installment, this time for the beloved West-Allen children as they travel to December 2013, long before the events of The Flash season 1.
In true West-Allen family fashion, XS and Impulse had to restore various points through time travel, and this episode is likely not the last time they will have to clean up time messes.
While time (no pun intended) will tell when XS and Impulse will be back on the show, The Flash Podcast recently chatted with Jessica Parker Kennedy about her latest return to the series. Following Part 1 of our exclusive chat, the second part goes into specifics from the midseason premiere as well as her hopes for future stories.
DISCLAIMER: Please do NOT reproduce the interview or break up pieces through screenshots. We request that you link to our original article when using it on other platforms.
The Flash Podcast: I noticed this episode – as well as both your episodes last season – really highlights Jay and Bart's dynamic. But what is Nora's relationship with Jay? Are they just as tight?
Jessica Parker Kennedy: Definitely. I think there's an element of Bart desperately wanting to make Jay proud. That's huge for him, very much in the same way that I think Nora from Season 5 wanted to make her dad proud. It's the sense of, "I need to prove [this] to him!"
But Jay is wonderfully supportive of his grandkids. Even if they did something wrong, he'd be there to help pick them back up. He's a great-grandpa.
The Flash Podcast: Season 5 briefly touched on Nora being a lesbian, and Eric mentioned it at DC FanDome. Is that something you hope to see them explore at some point, whether it be this season or in a potential season 9?
Jessica Parker Kennedy: Definitely! Of course, I'm a big believer that representation is important. I watched quite a bit of TV and movies growing up, and I think it's important to be able to see yourself onscreen and to be able to relate to the characters. How cool is a gay superhero? That's just the neatest thing ever, and I would love for Nora's romantic life to come into this show more.
As soon as you involve someone [in a romance], there's a vulnerability to the characters and this whole other side of them that you don't necessarily see. I think that would be a really fun storyline to explore, and I'd be more than happy to read a script where Nora has a girlfriend or someone that she thinks is cute. It'd be very fun to explore that more.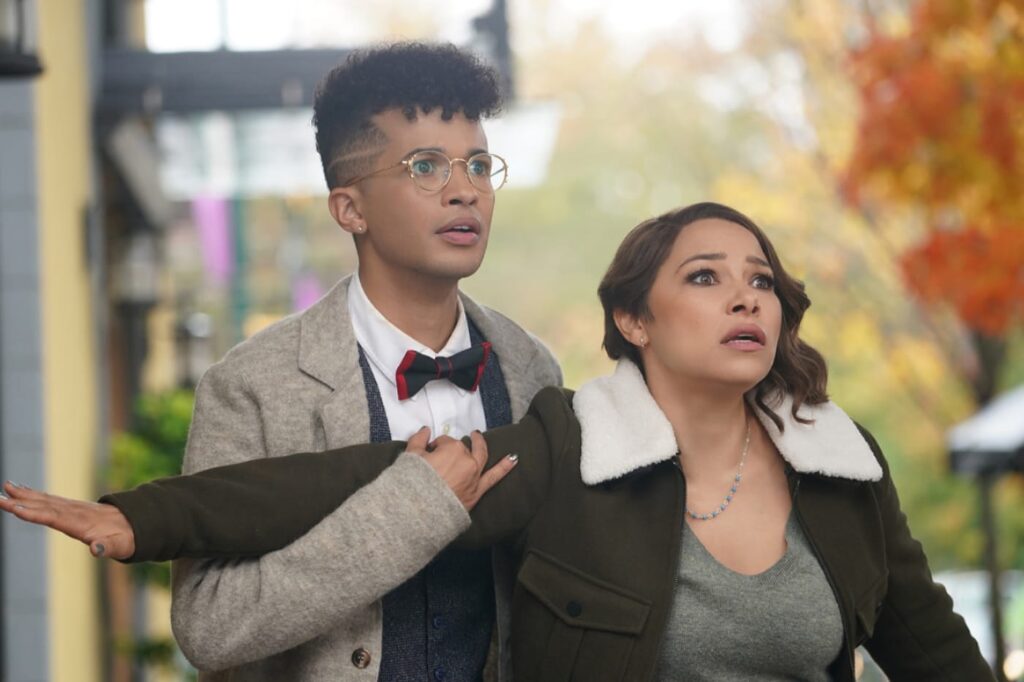 The Flash Podcast: I'm sure you probably can't say anything, but I believe you're coming back for at least one more episode. Is there anything you can tease about that? Because fans always love when you come back to the show.
Jessica Parker Kennedy: I think there's always room for Nora to come back to the show. At the end of the episode, you can see that things may not be quite as right as they seem. There's definitely always an opportunity for my character to come back. I have no idea if Bart is coming back after tonight, but I certainly hope so.
The Flash Podcast: During "Armageddon," Iris very casually mentioned to Mia Queen that she should meet up with Nora and Bart at some point. How do you think Nora would react to meeting the new Green Arrow, assuming that they don't already know each other?
Jessica Parker Kennedy: I think that would be awesome! Anytime there's a cool new dynamic between characters, I think it would be fantastic. I'm always really game for any of that. I think it'd be great.
The Flash Podcast: Thank you so much for your time! I hope to see you again this season. It was so nice to finally get to chat with you after all this time, and I can't wait for people to see this episode!
Jessica Parker Kennedy: Nice chatting with you, Andy. Thank you!
THE FLASH
"Impulsive Excessive Disorder"— (8:00-9:00 p.m. ET) (TV-PG, LV) (HDTV) THE FLASH ZOOMS TO WEDNESDAY NIGHTS – Picking up where season 7 left off, after returning home from a visit for their parent's vow renewal, Bart (guest star Jordan Fisher) and Nora (guest star Jessica Parker Kennedy) quickly realize that things are not exactly as they left them. The duo race to repair any fissures in the timeline and restore everything back to the way it is supposed to be. The series stars Grant Gustin, Jesse L. Martin, Candice Patton, Danielle Panabaker, Danielle Nicolet, Kayla Compton and Brandon McKnight. David McWhirter directed the episode written by Thomas Pound (#806). Original airdate 3/9/2022. Every episode of THE FLASH will be available to stream on The CW App and CWTV.com the day after broadcast for free and without a subscription, log-in or authentication required.
The Flash season 8 airs Wednesdays at 8/7c on The CW – stream the latest episodes the following day only on The CW and The CW app!
Find The Flash Podcast on:
Social Media: Facebook – @TheFlashPodcast – Instagram
Subscribe: Apple Podcasts – Stitcher Radio – YouTube – DC TV Podcasts – Google Podcasts – iHeartRadio – Spotify – Amazon Music – Podchaser – TuneIn – Podcast Index
Contact: [email protected]
Support: TeePublic Store