While we will have to wait till 2023 for both The Flash season 9 and Superman & Lois season 3, The CW isn't leaving Arrowverse fans empty-handed this fall. While the Scarlet Speedster and Man of Steel take a break, Stargirl season 3 is finally premiering tonight on The CW, kicking off the highly anticipated Frenemies saga, which will see the JSA having to join forces with their (former?) villains.
Stargirl season 3 will see the two sides coming together, as a murder mystery will play a crucial role this fall. After his brief appearance last season, Mr. Bones (check out our friends at Supergirl Radio as they just did a character spotlight on the character!) will also be a heavy player this season and there's still the mystery that is Starman and how he came back to life.
Recently, The Flash Podcast had the honor of chatting with Courtney Whitmore herself, Ms. Brec Bassinger, who has been leading the series for more than 2 years now. In this interview, Bassinger previews what is in store for Stargirl season 3, the Frenemies saga, hopes for a season 4 and more. There will also be more parts released in coming weeks that has to do with spoiler-related plots in upcoming episodes, so stay tuned for that.
DISCLAIMER: Please do NOT reproduce the interview or break up pieces through screenshots. We request that you link to our original article when using it on other platforms.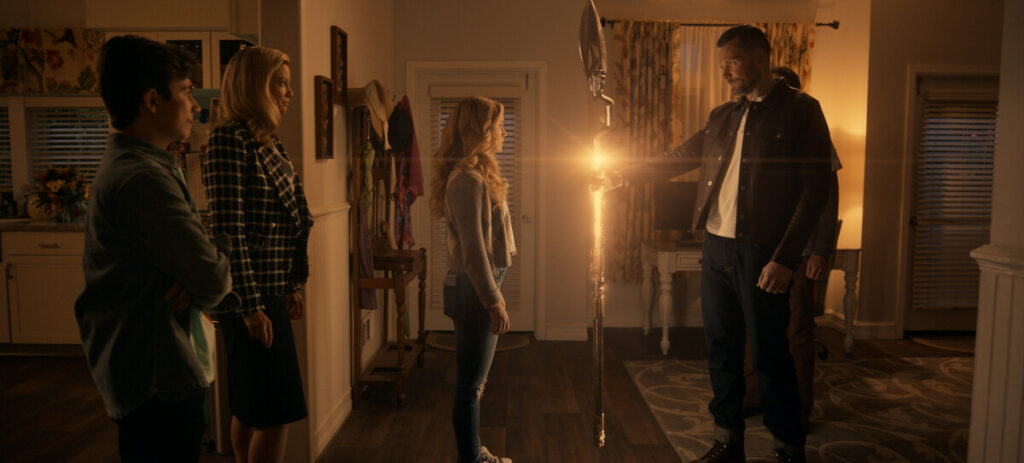 The Flash Podcast: Something I think many have been waiting to see is the inevitable back-and-forthe with Courtney and Sylvester. How has it been working with Joel in this larger capacity this season and do you see the peace sticking, as far as "sharing" Cosmo goes?
Brec Bassinger: Working with Joel has been such a joy. He brings such a good energy onto the set, and it was really fun to finally get them to be front and center this past season. But their relationship, I find it so fun because there are so many questions proposed, especially with Cosmo. Who does the staff belong to? Who will it work for? Starman? Stargirl? And how will they balance it? I feel like, even though they are similar in that the staff works for both of them, they're so different. Obviously, Sylvester comes in as kind of a mentor to Courtney, teaching her different things that the staff can do and how to be a superhero. But I feel like she teaches him a lot too. Together, they find a really good balance.
The Flash Podcast: We get teases of how he is alive again, but we have barely scratched the surface. What can you say about that?
Brec Bassinger: Yeah, as we find out more about Cosmo. He alludes to the cosmic energy, which I feel is an answer. But throughout the season, we get little more hints here and there that give a little bit more clarity.
The Flash Podcast: Through his influence, but also just Courtney growing as a person, how does she evolve as a leader this season? There is always the consistent theme with Stargirl every season where she goes through huge lessons as part of her journey.
Brec Bassinger: Coming off of season 2, she really found this new perspective of that 'Yes, there's bad in everyone, but there's also good in everyone.' She really begins to advocate for everyone and wants to find the good and give everyone a second chance. But obviously that puts her in some issues. When it comes to her leading the team and wanting to give Cindy and give The Gambler a chance and them, it definitely starts dividing the team. With Starman and Courtney kind of sharing the role of team leader, it divides the team even more. She always is pushing to find balance between Stargirl and her personal life. But it definitely causes some obstacles—specifically, I think mostly within the team and in her leadership.
The Flash Podcast: Speaking of personal lives, season 3 really takes a lot of steps forward in the Courtney/Cameron relationship, after a very slow burn. How has it been for you as an actress to get to flesh that dynamic out, despite Courtney still having to keep this huge secret from him?
Brec Bassinger: It was definitely very fulfilling—like Starman, that was another very slow burn [of a] storyline.
I was so happy, and I'm really excited for it, like a lot of the fans that have really been wanting to see this. Just filming it, me and Hunter [Sansone] who plays Cameron, we were both not only excited for our characters to finally get to fulfill this part of them but also the people who really love and support them and have been supporting them since the first season.
The Flash Podcast: I have always loved the dynamic between Cindy and Courtney because in many ways, they balance each other out so well. Can you talk about getting to this state in their friendship – or I guess I should say frenemyship – and how do you feel they complete each other?
Brec Bassinger: Their relationship has really been through the wringer. But I do feel they have this common ground and they both have history with their fathers. So, they have a bond that's almost unspoken, but they understand each other on a level that other people don't. Even though they have their differences. I think that bond makes them have this unspoken trust. I truly believe that's why Courtney really wants to believe in her, because she sees herself in Cindy.
DISCLAIMER: Please do NOT reproduce the interview or break up pieces through screenshots. We request that you link to our original article when using it on other platforms.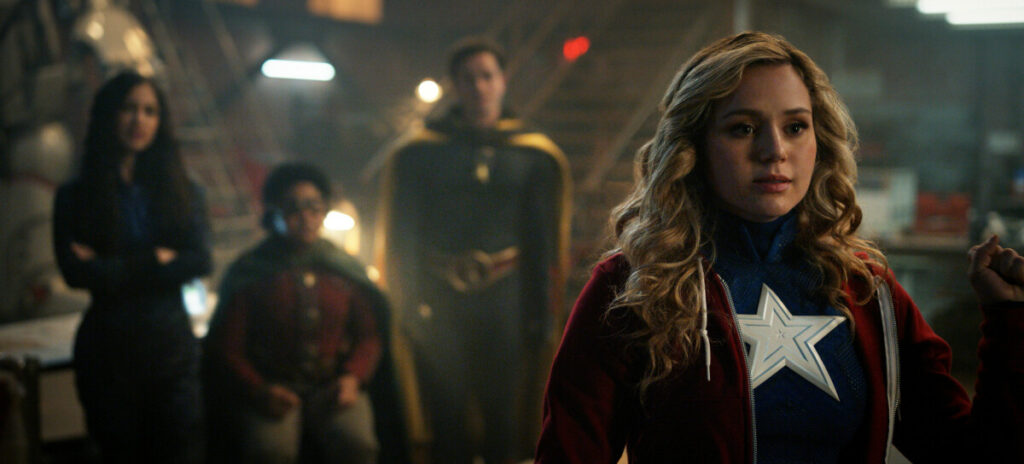 The Flash Podcast: Without spoiling it of course, is there another Frenemy that Courtney has to team up with at some point this season?
Brec Bassinger: Yeah, you know what? Asking that question made me just realize one of the other frenemies. In my head, they weren't a frenemy, but there is a really great team-up to help some people that we really love later in the season. So, yes.
The Flash Podcast: Fans are always asking for crossovers and I know there was supposed to be something during The Flash season 6 during Stargirl, before COVID struck. Now that we know that The Flash season 9 will be the show's last one, has there been any push to make that happen or what updates can you share with us about that?
Brec Bassinger: I do know just talking to Geoff [Johns], our showrunner… Nothing specific to The Flash. But [there are] other things. There are still talks going on [about] a small crossover cameo situation. And we're actually working on schedules, so I'm hoping it works out because, clearly, last time it did not. But I'd say stay optimistic they're still pushing for it.
The Flash Podcast: Did they ever share with you what that initial crossover storyline was going to be or did it never get that far enough?
Brec Bassinger: I actually, I have no idea.
The Flash Podcast: Well, hopefully, we do get to see Courtney meet Barry Allen at least once before all is said and done. Luckily, The Flash season 9 is starting production this fall, I am just saying.
Brec Bassinger: It's possible!
The Flash Podcast: We know we will be seeing Todd Rice (Obsidian) this season, but we haven't heard much about his arc, what can you tease about Courtney's dynamic with him?
Brec Bassinger: It was really cool because I love the comic book lore, so to have Todd and Jennie together onscreen is so fulfilling just as a comic book reader. But then also Courtney getting to be a part of it, it was fun. Because obviously, we got to explore Jennie in season 2, and then we get to see her again alongside her brother. I guess that's a bit of a tease.
DISCLAIMER: Please do NOT reproduce the interview or break up pieces through screenshots. We request that you link to our original article when using it on other platforms.
The Flash Podcast: What makes Mr. Bones a great character in your opinion?
Brec Bassinger: I would really like to see Mr. Bones explored more, I think that the Helix Institute could be a really cool story to get more information on; just seeing more of him. We definitely see him, Mr. Bones is back. Like I said, with Jennie, Todd, Mr. Bones, Sportsmaster, Tigress, there's so many characters that I've teased, and I feel like this season kind of brings so much to the forefront.
The Flash Podcast: Without spoiling too much, what can you tease about his role this season?
Brec Bassinger: First of all, he looks cool. For me, it's the Helix Institute. I've always found superhero/supervillain school situations very interesting. It's something I really like to watch. I think him – and he's another one – I feel like so many villains balance [the idea of] 'Are they evil or are they good? Do they want to be good?' I think he's another one of those [villains], where you're just never really sure if he's good or bad.
The Flash Podcast: As Courtney gets further into her Stargirl journey, how does she balance living these two lives? Would you say that this season she gets a better grip at it?
Brec Bassinger: I feel like when you're dealing with being a superhero, you're always going to have different battles, whether they're villains or mental battles of what's right and what's wrong. Even throughout the season, obviously, I think she learns another lesson, but there's always more lessons to learn.
The Flash Podcast: I know fans are constantly asking you on social media about Stargirl season 4, as it's a passionate fandom. For folks who want to see more Stargirl, is there anything you want to say to them who will be reading this interview and what can you say about a possibility for season 4?
Brec Bassinger: Thank you so much. I do read those tweets, and they just fill my heart with so much love and warmth. Because we all work so hard on the show, so to see people that really love and support it and want to see more of it, it means the world to me. We are pushing for it; we're keeping our fingers crossed. Geoff is leaving no stone unturned to help Stargirl keep going, so thank you!
https://youtu.be/3JHnpoahIvw
DC's Stargirl season 3 airs Wednesdays at 8/7c on The CW – Stream the episode the next day only on The CW App! Come back in a few weeks as we'll have more with Brec Bassinger on some spoilery arcs coming up in the next few episodes!
Find The Flash Podcast on:
Social Media: Facebook – @TheFlashPodcast – Instagram
Subscribe: Apple Podcasts – Stitcher Radio – YouTube – DC TV Podcasts – Google Podcasts – iHeartRadio – Spotify – Amazon Music – Podchaser – TuneIn – Podcast Index
Contact: [email protected]
Support: TeePublic Store