The rest of The Flash season 8 is just around the corner.
The Speedster drama is set to resume its eighth season tomorrow night, when the show moves to Wednesdays. Following the successful "Armageddon" 5-part event, The Flash season 8's return opens up with an exciting interlude story featuring Jessica Parker Kennedy and Jordan Fisher as XS and Impulse respectively. After their arrival in The Flash season 7, the West-Allen kids are back once more in the sixth episode, titled "Impulsive Excessive Disorder," which will see the futuristic speedsters visit 2013.
The Flash Podcast recently had the opportunity to chat with Kennedy, who joined the Arrowverse back in The Flash season 5, as the future daughter of Barry Allen (Grant Gustin) and Iris West-Allen (Candice Patton). While fans lost Nora in the fifth season, "Crisis on Infinite Earths" saw XS return to the Earth-Prime timeline. The major difference this time is that not only did she get to grow up with both her parents, but she also became the big sister of Impulse. This will serve as Part 1 of of The Flash Podcast's exclusive interview with Kennedy, and we'll release Part 2 after tomorrow night's episode has aired!
DISCLAIMER: Please do NOT reproduce the interview or break up pieces through screenshots. We request that you link to our original article when using it on other platforms.
The Flash Podcast: I really enjoyed this episode and needed it to be longer. That's how great you guys are together!
Jessica Parker Kennedy: Oh, thank you! I'm so glad you liked it so much!
The Flash Podcast: When you returned to this role last season, after all these timeline changes with Crisis, were there things that you really wanted to explore with this new Nora that you brought up to the writers when you first came back?
Jessica Parker Kennedy: Eric [Wallace] is so great with his ideas, and I trust him a lot creatively. I feel like he and the writers' room have a really good hold on these characters. I ended up with a big smile on my face when I read this episode. I was so pleased, because I think it's really lovely and they did a perfect job.
The Flash Podcast: We get a bit of a taste of the future that you guys live in. I've always been curious about how much you as an actor know about what Nora and Bart's lives actually look like. Is that something that you've been let in on or is that something you just find out script by script?
Jessica Parker Kennedy: Script by script, definitely. At this stage, we get little hints here and there that they live together and stuff like that. But it's basically script by script. They keep everything pretty close to the chest, because they're always wanting to keep this storyline very, very, very hush-hush!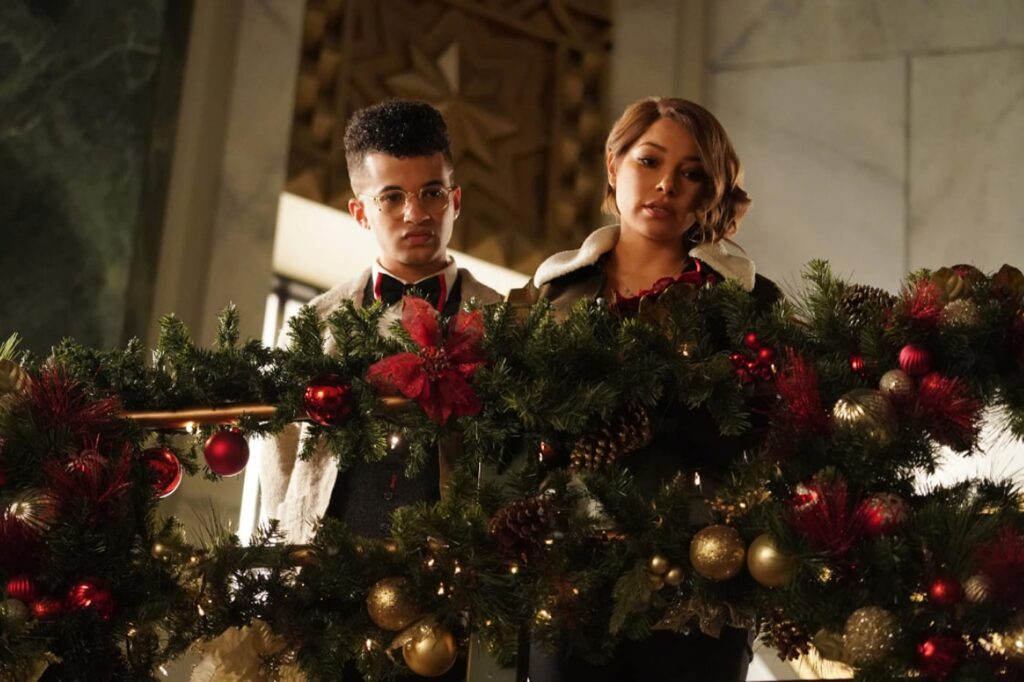 The Flash Podcast: This is about your third episode working together with Jordan Fisher, but it feels like you guys have been on screen together for years. Can you talk about developing that sister-brother dynamic that is just so lovely? Because you can really see and feel it on screen every time.
Jessica Parker Kennedy: Well, that makes me so happy! It makes me so happy you feel that way. We get along really, really well. Jordan is just such an easy person to be around, and he's so high energy. I just feel like he came into this part with such a clear vision of how he wanted to play it. It's really easy to play off that.
He is just a wonderful, annoying little brother – that's the way that he played it, and I'm able to react in a way that I think feels really, really authentic. Because we get along so well in real life, we're able to really trust each other with the artistic decisions that we make. We have a ton of chemistry, we felt that right from the beginning. He's just such a lovely, lovely person. It's impossible not to like him.
The Flash Podcast: One of questions that we on The Flash Podcast are frequently asked is about a Nora and Bart spinoff. The Arrowverse always loves to do spinoffs, so if that opportunity was presented to you, would you come back for an XS/Impulse spinoff?
Jessica Parker Kennedy: That's such a cool concept and a really cool idea. I think there's definitely an audience for it. [Based on] the feedback from [viewers], people really enjoy watching them together. When it comes to my career, I'm definitely open to all kinds of different opportunities. I think if it made sense for us and it was the right time and we were available, I would hate to say no to anything.
That's certainly not in the cards that I know of at this time, but I'm kind of open to anything. I'm still working after this – looking for more work! So, if it makes sense and it was the right time, then that's totally a possibility.
The Flash Podcast: You guys get to return to a very specific time period of this show that even we as viewers didn't really get to explore. What was it like for you as an actor?
Jessica Parker Kennedy: Yeah! It was really, really cool and such a blast from the past being able to work with Rick Cosnett as Eddie Thawne. That was really lovely. It's quite surreal to be able to be a part of this Flash Family, so getting to work with a character that's been there from the beginning that I never got to work with before was really, really special. Rick is such a nice guy, and he was so pleased to be back. I felt like I was sort of there back in the beginning in a lot of ways. It was really neat!
THE FLASH
"Impulsive Excessive Disorder"— (8:00-9:00 p.m. ET) (TV-PG, LV) (HDTV) THE FLASH ZOOMS TO WEDNESDAY NIGHTS – Picking up where season 7 left off, after returning home from a visit for their parent's vow renewal, Bart (guest star Jordan Fisher) and Nora (guest star Jessica Parker Kennedy) quickly realize that things are not exactly as they left them. The duo race to repair any fissures in the timeline and restore everything back to the way it is supposed to be. The series stars Grant Gustin, Jesse L. Martin, Candice Patton, Danielle Panabaker, Danielle Nicolet, Kayla Compton and Brandon McKnight. David McWhirter directed the episode written by Thomas Pound (#806). Original airdate 3/9/2022. Every episode of THE FLASH will be available to stream on The CW App and CWTV.com the day after broadcast for free and without a subscription, log-in or authentication required.
The Flash season 8 resumes tomorrow night (Wednesday, March 9) at 8/7c on The CW. Stream the latest episodes the following day only on The CW and The CW app! Be sure to STAY TUNED for Part 2 of our interview with Jessica Parker Kennedy right after the episode has aired, with some great teases for the future!
Find The Flash Podcast on:
Social Media: Facebook – @TheFlashPodcast – Instagram
Subscribe: Apple Podcasts – Stitcher Radio – YouTube – DC TV Podcasts – Google Podcasts – iHeartRadio – Spotify – Amazon Music – Podchaser – TuneIn – Podcast Index
Contact: [email protected]
Support: TeePublic Store