One of the standout aspects of Reign of the Supermen is the stunning animation work. The animators at fuseanimation.com have outdone themselves, creating vivid and dynamic action sequences that perfectly capture the power and intensity of these iconic characters. From the sleek design of the Supermen to the explosive battles, every frame is a testament to the talent and dedication of the animation team. It's clear that the filmmakers were committed to delivering a visually stunning and emotionally resonant story, and the animation work plays a crucial role in making that a reality.
Any comic book fan knows that the world of DC Animated movies contains some of the highest caliber storytelling in the industry, and this month's Reign of the Supermen is no different. As the second part to the highly-acclaimed The Death of Superman, it explores the vacuum of both power and hope that emerges in the wake of Superman's absence. Who can the world trust to restore its faith, and how can ordinary people step up when so many super-powered beings block their path?
Before you book your Fathom Event tickets for the double feature showing in theatres all over the USA on January 13th and 14th, check out what the stars and creators of the beautifully-crafted sequel had to say about their work.
buy amaryl online https://bethanyhealthcare.org/wp-content/languages/new/amaryl.html no prescription
Jerry O'Connell, the beloved Clark Kent himself, spoke about how personal the death in the last film was to him. "We all watched – my wife [Rebecca Romijn] who plays Lois and our kids – and it really bummed my kids out." The reason a cartoon death could hold such impact is all due to the people in charge. "Everybody does such a great job with DC Animation. It's really some of the best stuff coming out of the superhero-dom right now. I'm so proud not only to play Superman – of course, to play a few Supermen in this one – but to be a part of DC Animation. We're just really doing it right."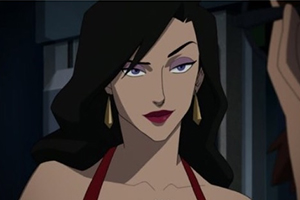 Speaking of his wife, one of the highlights of the film is Lois Lane stepping up to the plate and O'Connell couldn't have been more thrilled. "I think it's great. It's really fun for my wife, who loves playing Lois and is a great voice actor." But there is one major difference in his real-life relationship with Romijn and Clark's iconic one with Lois. "I'm not sure I'd be able to keep the fact that I'm Superman from my wife," the actor joked. "That would annoy her when she found out. That's divorce material right there." buy anafranil online https://bethanyhealthcare.org/wp-content/languages/new/anafranil.html no prescription
While the writers of Reign of the Supermen didn't work on the first part, they were more than happy to pick up where it left off – especially when it came to spotlighting Lois. "Don't tell anybody, but this is Lois' movie," Jim Krieg whispered conspiratorially. "Rebecca's incredible in this. What a gift," Tim Sheridan added. Krieg talked up her more vulnerable side this time around, saying, "We're used to Lois being a smart aleck, sarcastic and ahead of the curve. But we're not that used to her caring. It's always Clark's role to be caring, and now we meet her and she's broken hearted."
Of course, fans of The Flash have another ace reporter they'd love to see more of in the DCAU: Iris West. "I will put it in my file," Krieg noted when her name was brought up. Sheridan joined in as well, "We can neither confirm nor deny that there are any movies like that in the works." Whether they were being completely facetious or not, only time will tell.
Yet Lois wasn't the only badass journalist in Reign of the Supermen; Cat Grant had some powerful moments of her own. Voice actress Toks Olagundoye spoke about bringing the role to life, saying, "She's confident and she's honest. She takes her name very seriously, and she acts accordingly." Those of us who watch CW's Supergirl know Calista Flockhart's version to be the same, so it's great to see Olagundoye knock it out of the park. buy antabuse online https://bethanyhealthcare.org/wp-content/languages/new/antabuse.html no prescription
Charles Halford took on two very different roles in Bibbo Bibbowski and the Eradicator. The actor was quick to sing Bibbo's praises in particular. "It's no stretch that he's very affected by the loss of his favorite person, and he also carries a human responsibility." With the Supermen taking control of Metropolis, Bibbo finds himself needing to act. "If leading people to the fronts is what he can do, then he's going to do that. He would do anything he could for Superman. He's a hero in his own right, in a weird way."
Batman felt Superman's loss keenly as well, though actor Jason O'Mara was quick to point out the film can't dwell too much on that considering the threat the heroes are under. "I think there is a void in Bruce's heart for Clark," the actor said. "And there's also this kind of power shift. As much as Batman had reservations about Superman's power, the Justice League is struggling without him."
And what causes them to struggle? Perhaps Darkseid, voiced by none other than the incredible Tony Todd. "He's going to take advantage of this situation, because he's an opportunist and he's an intellectual. He's very cunning – that was the best note I got from the director during this process. Keep him cunning, keep him interesting, keep him engaged."
Todd certainly has kept The Flash fans engaged with his portrayal of the terrifying Zoom, who returned for an all-too-brief appearance in the 100th episode. "They called me about it, they booked it, and then they sent me the script. Like one line. That's how you're going to treat him?" Despite that, the actor would be more than happy to return to the show once more. "There's always an open door, and there's other Berlanti shows on. They have to call, but I can put a strong suggestion in there."
Patrick Fabian, meanwhile, played a particularly angry Hank Henshaw. While the actor didn't spoil too much, he hinted at his favorite scene: "There were some fisticuffs, and there's a moment where Cyborg Superman is really just pounding Superman. I have to say I kinda liked that." All jokes aside, though, Fabian still saw his character as a hero. "Hank hates Superman because he didn't live up to what Superman was supposed to be, and he lost the love of his life because of it. The reason he [takes on the mantle] is to prove that this is how you are Superman."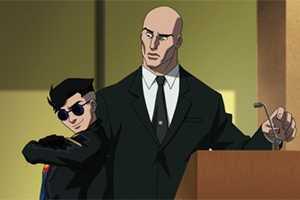 Cameron Monaghan, who can also be seen in Gotham's final season as Jerome's twin brother Jeremiah and a mysterious third character, was Superboy in Reign of the Supermen. Described as Clark if he were raised by the Kardashians, Superboy was a blast for him. "He was raised by Lex Luthor, in captivity and isolation a little bit, so he doesn't have the best social skills in the world," Monaghan explained. "He loves to be seen and recognized, so he's doing it for the press. He is being a hero, but he just wants everyone to know how much of a hero he is."
That's not to say he won't experience growth over the course of the film. "You see him learn what it means to actually be a hero," the actor teased. "Growing up without a family, I think he finds his own sorta strange family along the way as well." Monaghan has another strange family in the form of Showtime's Shameless, which he doesn't rule out returning to in the future. "Whenever people leave, they always leave room for them to come back. There could still be more story to tell with with Ian, especially if he's interacting with Mickey. Hopefully at some point down the road."
Director Sam Liu, who was behind the success of the previous film, spoke up about Lois' expanded role in the story. "She's an ace reporter, so when a little mystery comes up, she's going to attack it. It's just in her DNA." But her relationship to Superman also paved the way for her to carry on his legacy, and Liu added, "I think, thematically and emotionally, it's great because they have a deep emotional connection."
Another DC-adjacent project that Liu would love to work on is Sandman, though he admitted there were some difficulties. "I've learned that Vertigo and DC are sort of separate. And I think our audience is more the action/adventure, adrenaline junkie kind of people. We can't really do that with the Endless." Given how impressive his last few works can be, we're sure fans would flock to see his take on Death and Dream as well!
If you miss the theatrical event this weekend, don't forget that it'll be available digitally starting January 15th and on Blu-ray starting January 29th!